— News and Events—
---
African Rainforest Conservancy's 20th annual Artists for Africa Event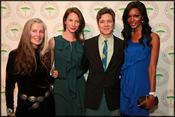 On February 9, 2011 ARC held their 20th annual Artists for Africa event in New York City. Gloria Flora, the 2008 recipient of the New Species Award, presented Deloitte LLP UK with this year's new species award. To view the slideshow or to read more visit www.africanconservation.org
Remarkable Beyond Borders: Shaping the Future of the Crown of the Continent
Save the Date for the First Annual Conference Roundatable on the Crown of the Continent.
The first annual conference roundtable is to be held September 23-24, 2010 in Waterton Park, Alberta, Canada. The conference will feature: Darrell Kipp (Piegan Institute), Jack Nisbet (Naturalist and Author), Jim Prentice (Canada's Minister for the Environment-invited), Lynn Scarlett (former U.S. Deputy Secretary of the Interior) and Jonathan Tourtellot (National Geographic Society). For more information please visit www.crownroundtable.org
Discover the Front with Rick Graetz on May 12, 2010
Join renowned Montana author and geographer, Rick Graetz, on a voyage of discovery to the Rocky Mountain Front, May 12th.
Graetz will exhibit dazzling photos of the area's majestic peaks, wildlife, and wide-open prairies while revealing details of a homegrown effort to protect the Front for future generations.
This free event will be held in Helena's Grandstreet Theatre (325 North Park), Wednesday May 12th from 6:30pm to 8:00pm and is sponsored by the Coalition to Protect the Rocky Mountain Front. Find out more at www.savethefront.org or contact Ben Lamb at blamb@mtwf.org or (406)-458-0227 ext. 108.
Rick Graetz is a world-renowned publisher, author, and photographer. He and his wife Susie have authored more than 30 books including 'Montana's Rocky Mountain Front' and the best-selling 'Montana's Bob Marshall Country'. Rick is currently a professor of geography at the University of Montana and co-director of the University's Crown of the Continent Initiative.